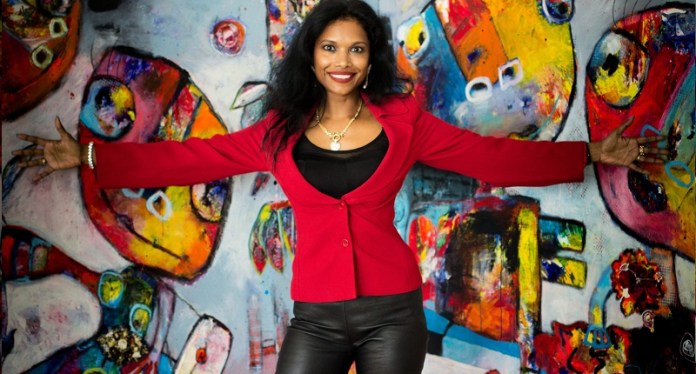 Shefali was born in Bangladesh and adopted to Denmark as an infant.
After 10 years in Dubai, the Danish international artist is now based in Copenhagen, Denmark.
Shefali's art is vivid, colourful, thrilling and awakens the senses with her use of intense textures and generous brush strokes.
The 50's art scene lays ground for Shefali's paintings. Inspiration is found in the CoBrA and Avant Garde movement, and her paintings are defined by a unique style of semi-abstract, naïve, childish, innocent and spontaneous compositions of human- and animal creatures.
Inspiration is found in children's way of making art, influencing Shefali to paint an unspoiled and spontaneous world where the human and animal-like creatures are regarded as equals. Shefali will not be limited by conventional techniques, but lets her inner child take over the canvas.
The paintings generate positive energy and leave the surroundings in a good mood, stimulating inspiration and curiosity.
Shefali says of her work:"Due to a traumatic childhood losing my mother, looking for the happy family life means everything to me and for me art is about creating happiness, surprise and thoughts; Art makes me feel alive, and I seek to share an experience of harmony and long lasting joy with the surroundings".
Her work has reached a level of maturity and assurance that continues to attract new audiences and collectors. With so much wind in her sails, she has also taken the bold step of representing herself with great success at The National Art Gallery, Shilpakala Academy in Dhaka 2018 and The National Art Museum of China, Beijing 2017 which could lead to further developments of this kind throughout the world.
She holds a BA of Social Education (Art and Culture) VIA, University College, Aarhus, Denmark, and has studied art in Denmark, Sweden, Ghana and Dubai. To Shefali, her work as an artist is explorative and curious, and she explores all areas of visual and creative art in order for her to further develop as a person and an artist. Furthermore, Shefali's educational background as a graphical designer, has taken her to cities such as London and Singapore.
Her works have been shown in numerous important International exhibitions in Denmark, Dubai, New York, Amsterdam, Marseille, Aix-en Provence, Paris, Barcelona and Madrid. She was nominated Global Art Award finalist for 2018 Dubai and was a nominee for the Dubai International Emerging Artist Award in 2014. Her artwork is part of the International Contemporary art private collections.
Shefali has won several awards: In 2016, at Dubai International Art Symposium (DIAS), Rashid Centre, Dubai, under the Patronage of Sheikh Jumaa Bin Maktoum Bin Jumaa Al Maktoum and in 2017, Mind of a Winner Awards given by Executive Women, Dubai.She has been curatingartwork at the IVEI Art Competition "The Next", 2017 "Discover Yourself", 2016, Dubai. In 2010, she was a member of The Judging Panel of the Sharjah International Biennial for Children´s Arts.
In Dubai, she ran her own art school and taught art at Mawaheb from Beautiful People, Al Fahidi Historical District, Dubai (art center for people with special needs). She is a member of Jumeirah Rotary Club and is involved with many charities, which is something that Shefali feels very strongly about.
After much hard work and perseverance, Shefali has managed to place herself on the international art scene. This is why she encourages young artists to do like her, to follow their dreams as hard work, dedication and working with something that you love, makes life joyful.